Kitten Purchase Information

For Current Kittens please click HERE
We had a litter of F5C Kittens on December 26th!! Please click HERE for more information


Our Savannah kittens are priced according to their generation, as well as how closely they meet the TICA Savannah Breed Standard (which can be seen
HERE
). Prices are subject to change, and are not locked in until kittens are a
minimum
of 4 weeks old
and
a non refundable deposit is accepted with a signed purchase agreement. All kitten prices include:
Spay/neuter
Microchip with pre-paid registration
De-worming
Two rounds of FVRCP vaccines
30 days free pet health insurance with Trupanion (not available in all states)
Vet health check
One year written health guarantee (5 years for HCM)
TICA Blue Slip
Kitten care package including sample packs of kittens current foods, familiar blanket and toys
Lifetime breeder support
Average Pet Price Ranges (may be higher or lower than these in some cases):
F3 $3000-$4000
F5 $2000-$2500
*Sales Tax Applicable for Connecticut Residents
**Discount available for multiple kitten purchases and/or previous NitroKatz kitten owners
Kittens will generally be ready to go home around 13-16 weeks.
We reserve the right to hold back any kittens for evaluation to show and breeding homes and for our own breeding program. (See "Breeder Evaluation" information below) We reserve the right to determine a home's eligibility to meet our standards, and to refuse sale to those we don't feel are a good match for our kittens.
Home Visits


While I understand the desire to come look at kittens before you "pick one out", this is not something I do here at NitroKatz. When people ask to come visit my "cattery" they are actually asking to come visit my home. I do not operate this as a business so I have no retail shop nor commercial facility. My cats are part of my household. Due to the inherent risks involved in allowing strangers into one's home, I do not take this chance.

Owners with a deposit down can visit their kitten by appointment starting one week after they have received their first vaccinations. (Visits available starting around 10 weeks of age).

Folks are often under the impression that they must "pick out their kitten" in person. As an experienced breeder part of what I offer is the ability to match kitten personality to what their future owner's are looking for while often times visiting means picking based on "cute" rather than finding the right fit. I want the best, forever home and that means knowing my kittens temperament and how to partner this with the right family. We use photos, videos and tools such as Skype sessions to have a virtual visit with your potential family member without any health risks.

If they are local, I actually prefer to bring kittens to their new homes in person rather than having their owners come to my home. I don't mind families coming to my home for pick up, but it works better for me to come to the owner's home for several reasons. First, I get a chance to see the environment they'll be in. Next, I can make recommendations for transition room set up, litter box location, removal of house plants if dangerous ones are in the home, kitten-proofing, and so on. Finally, I have a chance to review everything and send the kitten off on their new adventure in person and in the home so they have that added security.


Shipping


We prefer to not ship our kittens in cargo, especially in light of recent mishaps we've seen in cargo pet shipping. New pet parents can fly here and I can meet them at the airport with their new baby to fly home in cabin with them. We have several choices of airports nearby to meet new families schedules. Or for an additional fee I can hand deliver kittens in some cases, depending on availability and new families flexibility.



Breeder Evaluation

When a kitten is marked "under breeder evaluation", the qualities looked at most is how closely the kitten matches the TICA Savannah breed standard. This can be seen
HERE.
Only the very best examples are kept back for breeding programs. We usually allow until a minimum of 8 weeks of age to determine this, as kittens development can change so much in only a few days time. Often we will give up to 12 weeks of age to evaluate them.
Then we all know there is no such thing as a Purrfect cat, so we have to look at exactly what good traits and also faults there are to determine if that kitten is a good fit for the breeder that is evaluating the kitten. This depends on the good traits/faults of the cats they will pair them with. There are also considerations for things we can't see, like what colors the kitten will carry for. These things involve DNA testing, which also takes time.
If a kitten isn't chosen for a breeder program, then we look for a good fit as a pet home. Many times they are breeder quality, they just aren't exactly what a breeder currently needs for their program. This does not reflect on the quality of your pet kitten, as long as they have the look you desire. All kittens are sold 100% healthy and with a written health guarantee.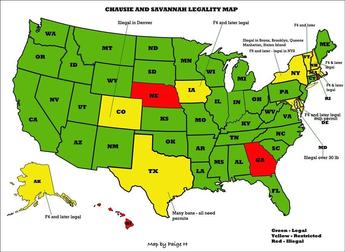 Please make sure the generation you are requesting is legal where you live. Residency will be verified prior to placing kittens.
http://www.hybridlaw.com/
---